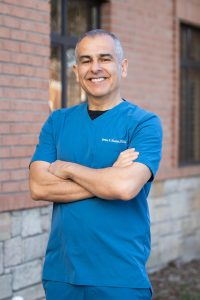 Peter F. Hazim, DDS
General Dentist/Prosthodontist
Dr. Peter F. Hazim has been practicing in the area since 1999. He is a graduate of Damascus University in Syria and continued his studies at the University Rene' Descartes in Paris, France. After his time in France, he accepted an internship with the Loyola VA hospital in Chicago, Illinois, where he became certified in prosthodontics.
He is a member of the American Dental Association® and the Texas Dental Association. Dr. Hazim continues to further his education by constantly taking classes or workshops at the Spear Institute and Pankey Institute and has been awarded "Best Dentist in Dallas" by D Magazine from 2017 to 2022. He takes pride in his profession and always strives to make dentistry enjoyable for patients and himself.
He has two daughters with his wife, Heidi, who handles the business aspects of the office and enjoys cooking, cycling, traveling and spending time with family in his free time.